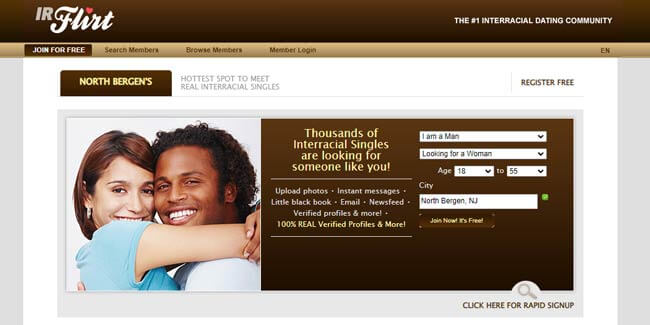 We've all been there, staring at the empty message box thinking what should you write? The message could not be too long or too short. It should be fun, creative, and uplifting. And it should showcase just how cool you are. As you can notice this is quite hard to pull off. But don't worry, we've got you covered. If you want to know how to write that perfect first message on a dating site do read on.
The first thing you should do is choose the right dating platform. If you're interested in interracial dating, we recommend you check out our list of Best Interracial Dating Sites. All the big dating platforms are made with the general population in mind and they're streamlined for fast-paced dating. The sites we reviewed have a different approach and are willing to innovate and adopt new features. We already talked about one of them, the flirt feature in one of our previous articles. 
Secondly, almost all of the sites on our list are free to join. So, you could say that this is a risk-free endeavor. So, after you join one of the big sites like Interracial Romance, for example, the next step is to find someone you like. When you do that, you might consider sending them a flirt just to see how they will respond to that. Maybe they'll send a flirt back or even a message, you never know. Whatever happens, it is finally time to write your first message to that person. 
You should open with a casual greeting like hi and then continue by mentioning what have you been up to prior to sending that message. Maybe you went to a grocery store or a bar. Maybe you had to change your tires or something. And this doesn't have to be something that you did exactly that day. You can cheat a little and use something that happened a couple of days ago. What this does is open new avenues of conversation. What kind of a car do you drive or where do you shop, things like that.

You can also say that you didn't do anything today, that's not a problem. We all have days where we struggle to get out of bed and it's important to talk about that. What you should do next is introduce yourself semi-formally. We know you already did that with your profile but what we're trying to do here is mimic real-life dating, trying to stay natural and honest. If you want, you can also mention what you do for a living.
The next step is to notice something positive about that other person. Something that made you want to write them a message. It could be a smile, a look, or something they wrote in their bio. Keep things general and positive and try not to go into details. For example, you shouldn't tell the other person that you really like their feet after you've zoomed in on them. However, this is something you can share once you've built a good relationship. It can be that weird and quirky story that couples usually have.
Finally, you should end the message with a sort of open-ended question. Like how long have you been on this site or do you live in the city you mentioned on your profile? Something that's easy to give an answer to and something that shows interest. And that's it, it's time to send that first message flying. As things develop, you should share more and more about yourself, your goals, and just what you would want out of that relationship. You don't want to spend a lot of time and effort only to find out that the other person just wanted someone to talk to or perhaps they were looking for marriage and you weren't.